Kilimanjaro Climb Featured in TV Documentary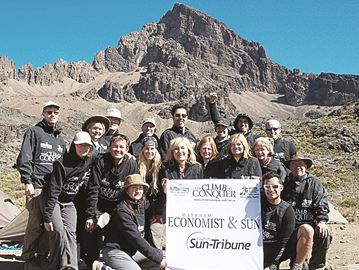 TUNE IN
ROGERS TV PRESENTS THE CLIMB TO CONQUER, Sunday Sept. 15 at 5 p.m., on Rogers TV, cable 10 /63 in York Region.
The climb up Mt. Kilimanjaro by staff and supporters of Markham Stouffville Hospital has been turned into a documentary that will be featured on Rogers cable television this weekend.
The documentary tells the story of a team of 18 physicians, staff and community supporters from the Markham Stouffville Hospital Foundation who embarked on a journey to Tanzania, Africa, to climb Mt. Kilimanjaro in July 2011 to raise funds for the hospital's expansion.
The trek took nine days: seven days to climb the mountain and two days to come back down.
"Rogers TV is proud to support communities that help others. The Climb to Conquer documentary showcases people passionately coming together to help fight the stigma of child and adolescent mental illness," said Lisa McClean-Stellick, station manager at Rogers TV in York Region.
"Words cannot express our gratitude to Rogers TV for putting this documentary together. The Climb to Conquer follows our journey, with heartfelt stories dedicated to helping children and teens conquer their challenges with mental illness," said Allan Bell, director of corporate sponsorship and special events with hospital foundation.
"The money raised from the climb will help children and youth receive the counseling and care they need close to home," Mr. Bell said.
The Climb to Conquer project is part of the hospital's $50 million fundraising campaign towards its $400-million expansion.
Once completed, the expansion of the hospital's mental health program will provide greater access to services and treatment to children and youth with mental illness.
For more information about the Summit Murder Mystery series, CLICK HERE
To order your copy of Murder on Kilimanjaro
,
CLICK HERE
Follow Charles Irion on Twitter HERE
Friend Charles Irion on Facebook HERE
Visit Charles Irion's YouTube channel HERE
Article source: yorkregion.com